Vice-president Yu Benli met a delegation of The U.S. Consulate General in Shanghai headed by Mary Sue Fields, director of the Exterior Communication Division, on November 17.
Yu said that AnhuiUniversity started cooperation with US higher institutes in the 1990s. Till now, AHU has established cooperation, conducted Summer Camp and other Joint-training Program with 25 US higher institutes and research institutes. Mary Sue Fields said The French Consulate General in Shanghai attached great importance to the cooperation with provinces close to Shanghai in education, culture, and business, hoping to further exchanges and cooperation with AnhuiUniversity.
Persons in change of relevant departments and schools attended the meeting.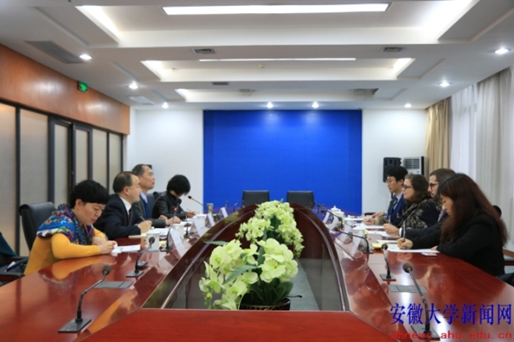 Yu Benli is meeting a delegation of The U.S. Consulate General in Shanghai headed by education consulFabien Chareix