The 10th U-6 Academic Forum held in AHU on November 11, 2015, the theme of which is "New Theme of the 21st Higher Institutes—Environmental Protection and Sustainable Development".
President Cheng Hua addressed a speech on the opening ceremony. Fang Fanquan, vice-president of GuangDong University of Foreign Studies; Chen Renlong, vice-president of Taiwan Ling Tung University; Robot, director of the International Department of University of St.Thomas; Zhou Shoumin, dean of Wenzao Ursuline College of Languages, and some faculty and student representatives attended the opening ceremony.
It is reported that the U-6 Forum established in 2006 is a platform for higher institutes to exchanges ideas in international cooperation and education.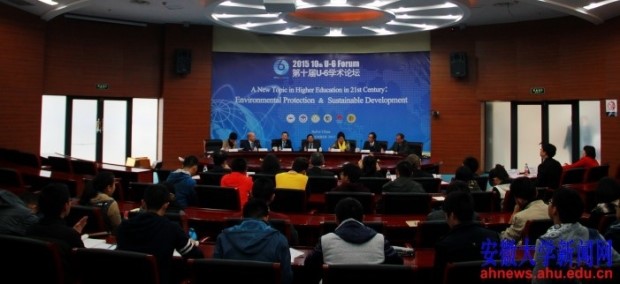 10th U-6 Academic Forum held in AHU