On May 30, 2018, Confucius Institute at Kharkiv National University in Ukraine embraced its 10th anniversary. Delegation of Anhui University headed by vice president Xue Zhaoming, and officials from Embassy of the People's Republic of China in Ukraine as well as the state government of Kharkiv participated in the celebration activities.
To showcase the achievements Confucius Institute had obtained in the past decade and invoke the institution's aspiration to stride further into the future, a picture exhibition was initiated to commemorate major moments of Confucius Institute since its establishment in 2008. On top of that, a round-table conference themed "Confucius Institute as the bridge of China-Ukraine relationship: Past, Present and Future" was held. At the conference, Vice President Xue extended warm congratulations to Confucius Institute on its fruitful decade, and he also expressed sincere gratitude for Confucius Institute Headquarters' solid and steady support.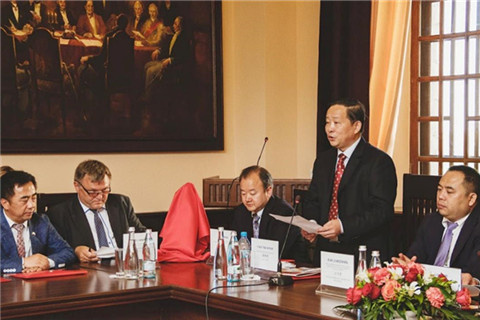 Co-hosted by Anhui University, Confucius Institute at Kharkiv National University in Ukraine has become a major hub of promoting the Chinese language and Chinese culture in the eastern part of this country, opening 11 teaching spots in 7 Ukrainian cities and obtaining outstanding achievements in promoting cultural, scientific and economical communications between China and Ukraine.