On September 7, the delegation from Colonia of Uruguay, headed by Colonia governor Carlos Moreira Reisch, paid a visit to Anhui University (AHU).
AHU Party Secretary Li Renqun welcomed and met with the visiting guests. He made a brief introduction of AHU as well as its "Double First-Class" construction, international exchange, Spanish major, and cooperation with Latin American countries. Li pointed out that AHU expects cooperation and exchange with higher education institutions in Colonia. Mr. Reisch also introduced some information about Colonia, congratulated AHU on its coming 90th anniversary, and promised to actively promote education cooperation between AHU and Colonia Universities.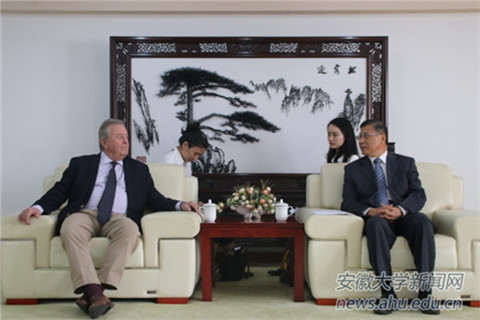 After the meeting, Governor Reisch gave a report, titled Colonia and Its Contribution to Uruguay, to AHU students and staff. The report was hosted by Mr. Wang Qunjing, executive vice president of AHU.