On October 16, 2018, Anhui Maryland Higher Education Forum was held in Qingyuan Campus of Anhui University (AHU). The theme of this forum is to strengthen bilateral cooperation and promote education opening-up.
Officials from Anhui provincial education department and representatives from universities of Anhui Province and Maryland State participated in the forum.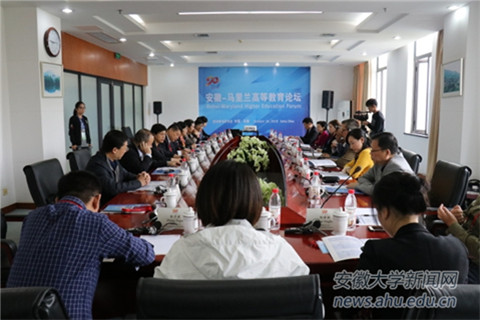 Ms. Cheng Yanlei, vice president of AHU, made a brief introduction of our university and the achievements AHU had obtained in the field of international exchange and cooperation. She also pointed out that recent years saw increasing collaboration between AHU and universities of Maryland. Assistant president of Morgan State University hoped that the education forum could lay foundation for further cooperation.
Vice director of Anhui provincial education department, Mr. Xie Ping, extended warm congratulations to the forum and expressed his expectation to further open up education of Anhui province and promote cooperation with Maryland.
Representatives from both sides of Anhui and Maryland contributed their knowledge and experience under the theme of the forum.