On the morning of July 3rd, the opening ceremony of 2019"Belt and Road" International Summer School was held in the lecture hall of Wendian Library in Qingyuan Campus of Anhui University(AHU). Prof. Cheng Yanlei, Vice President of AHU, attended and delivered a speech at the ceremony.The opening ceremonywas hosted by Mr. Hu Xuewen, director of Office of International Cooperation and Exchange, AHU .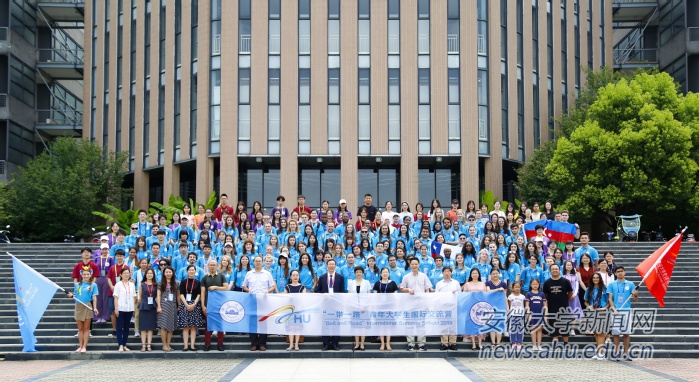 Teachers and students from 15 countries including Azerbaijan, Cambodia, Chile, France, Germany, Japan, Peru, Poland, Romania, Russia, South Africa, South Korea, the United Kingdom, Ukraine and the United States as well as more than a dozen local host families for the "Family VisitingDay", one of the activities in the Summer School, participated in the opening ceremony.
Cheng said that Anhui University has always attached great importance to international exchanges and cooperation, and has set up three Confucius institutes in Chile, Ukraine and Azerbaijan, and nine China centers in Russia, Japan, South Korea, Poland, France and Mexico etc.In the process, we have not only achieved fruitful results, but also gained profound international friendship.She also pointed out that this activity will continuously strengthen the exchanges between teachers and students, promote cultural exchanges and make contributions to enhancing partnership.
Charles Louis Tanan, representative of teaching staff from University of Greenwich and the representative of students Ilyas Barashiev from Confucius institute in Azerbaijan made speeches.Ms. Cheng awarded the flag to the campers, and "Belt and Road" International Summer School officially opened.
Related departments and faculties of the some schoolsattended this activity.