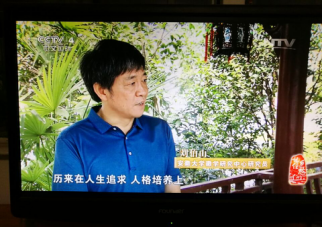 Liu Boshan, born in 1962, graduated from Anhui University in 1983, acted as an instructor in Party School of the CPC Jixi County Committee from 1984 to 1985. Then he was appointed to the general secretary of Huangshan Social Sciences Associationand theeditor-in-chief of the journal Social Science of Huizhou from 1988 to 1995.From the second half of 1991 to the first half of 1992, he served as a cadre stationed in Diankou Village in Xiunig County as a member of working group of the CPC Huangshan City Committee. From 1995 to June 2006, he was vice-president of Huangshan Social Sciences Association and editor-in-chief of the journal Social Science of Huizhou. From June 2006, he worked in the research center of Hui Studies of Anhui University, and at the end of the year he was rated as associate professor in philosophy.
He has been an associate editor and commissioning editor for the large-scale Social Science Journal of Hui Studies. In 2001, he was a master supervisor. Since March 2003, he was selected to be deputy general secretary and the editor-in-chief of the journal Social Science of Huizhou. His other honorary titles were academic leaders of Anhui province, winner of Anhui provincial government subsidy, the president of Academy of Huangshan culture, vice chairman of Association of Hui Studies of Anhui province respectively.
His main research is philosophy and Hui Studies.And he has published more than 100 articles in different-level journals such as Academic Monthly, Guangming Daily, Journal of Literature,History & Philosophy, Historical Archives, Studies in Ethics, Agricultural History of China, The Journal of Chinese Social and Economic History etc. Among these six articles were translated into Korean and published in Korean academic journals. He also publishedHuizhou Office-copy of 5 Files with 50 volumes.Among these five Files, the first, the second and the third files with 30 volumes won the first prize of Excellent Achievements in Philosophy and SocialScience of Anhui province in 2009-2010, the fourth one with 10 volumes and the fifth one with 10 volumes won the second prizes of 2011 and 2015 National Excellent Ancient Booksrespectively. In Chinese Annual Report of High Cited Books (2016) issued by Research Center for China Science BibliometricsandEvaluation, Huizhou Office-copy was in top 3 lists in its correspondingdiscipline (1949-2009 High Cited Books).
He served as a lecture professor in Shenzhen Civic Culture Forum, International Tourism Island Forum of Hainan Province, Forum of Anhui Social Science, New Anhui Forum etc. and he was honored as national excellent expert for popularizationof social science.