On Afternoon 3, 7th 2017, the university held the second meeting on human and social science at Room A502. Member of the Standing Committee of the CPC of Anhui University, deputy president Cheng Yanlei attended the meeting and delivered a speech, principals in charge of research management of human and social science fromschools(department) of liberal arts, key research bases for humanity and social science and research management office also attended. The meeting was presided over by division chief Zhang Qibing from Division of Humanities and Social Sciences.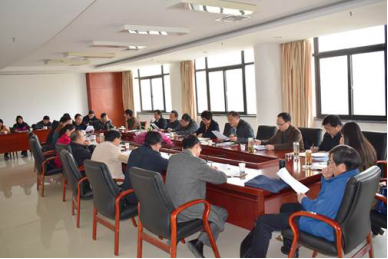 (The Second Meeting on Human and Social Science at the Room A502)
Mr. Cheng said the present work for national philosophical and social science made a perfect time to its prosperity and development. Two sessions (of the NPC and the CPPCC) has blown the horn for social science. The faculty of our university should attach importance to them,and seize the opportunity to make good use of it with consultation, suggestions and accountability, and carry out the spirit of speeches given by President Xi, especially the speech given at the colloquium on nationalphilosophical and social science work. With the actual development of the university's social science research, Mr. Cheng underlined necessity of project conclusions of science research, and urged these principals to conclude all kinds of expired fund projects. He also emphasized that we should speed up and strengthen construction of new system of think tanks and the social science associations, and perform functions of public services and decision-makingconsultation for these think tanks such as Research Center for Hui Studies of Anhui University. For this purpose, we should standardizemanagement of scientific research,enhance publicity of policies about research fund management. Moreover, our colleges (departments) and functional divisions should often exchange and communicate with each other so as to better service teaching and scientific research.
The principals from the Division of Humanities and Social Sciencesreported the present going of the division from five aspects, which are deepening reform of management system of scientific research, the construction of social sciences associations, new system of think tankand platform construction such as key research bases for humanity and social science etc.They also make specific arrangementfor project applications, academic exchanges, and other work of humanity and social science and research in 2017. Then the principals from schools (departments) and key research bases introduced their respective current work and recent research development, and offered some opinions and suggestions.