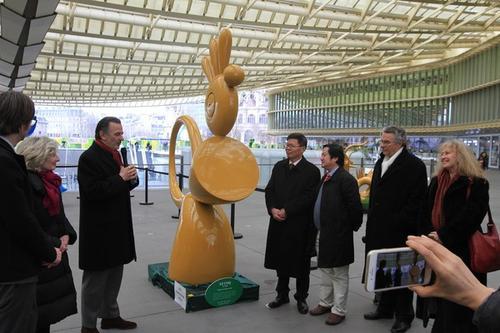 Art Exhibition of Anhui University Alumnus in France
Liu Yilin,a graduate of Anhui University in 1981, exhibited his works of arts in Paris from Jan 21 to Jan 25, 2017. President of Artists Association of Paris, artists from the world and Chinese overseas students were presented in the opening ceremony. 135 pieces of art works were exhibited this time, including sculptures and oil paintings.
JF Legaret, an official from the 1th arrondissement of Paris, says, "Mr. Liu is a great artist from China. He uses universal artistic language to present Chinese culture with amazing sculptures. The sculptures are simple but breathtaking, delicate but with vitality. I am very glad that Mr. Liu decided to hold the exhibition here in Paris because this exhibition must add distinctiveelements to the art community of Paris."
Liu Yilin is not only an artist, but also a poet, writer, and world traveler. He has published collections of poems, novels and essays to date.